Cosmetic Crowns & Bridges Santo Domingo

At our Santo Domingo Office we have cosmetic dentistry professionals to help you achieve your cosmetic goals. We can redesign your smile improving the overall apearance of your smile replacing old restoration, old porcelain fused to metal bridges with the new generation of prosthetics availaible in the dental field. Cosmetic Crowns are Metal Free made with pressed porcelain or Zirconia which gives a natural looking to your teeth.
Types of
Crowns & Bridges
For years, all prosthetics were made in Porcelain Fused to Metal (PFM) they were a long lasting solution in the past but having some disadvantages like not fitting properly, black gum lines when metal is showing after a gum retraction and opacity that haves any prosthetics that haves a metal core. Actually dental crowns and bridges are made with full contour porcelain and full contour zircon made from a solid zirconia block that is milled in a dental lab with CAD/CAM technology. These new technology in dental prosthetics are more realistic and durable.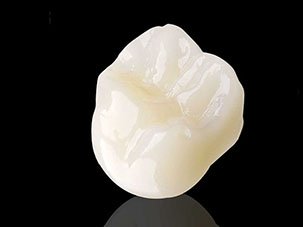 Full Contour Zirconia Crown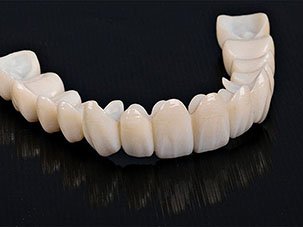 Full Arch Fixed Zircon Bridge
Zirconia Maryland Bridges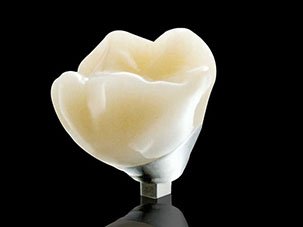 Zircon Implant Crown
Full contour Porcelain Crown & Bridge
Full Arch fixed implant Bridge